Users will be able to share updates and post pictures and videos from their phone
Crowdfunding for a new home is about to be as simple as pulling up an app on your smartphone.
HomeFundMe, the down payment assistance crowdfunding platform introduced by national mortgage banking firm CMG Financial last October, unveiled a new app for the platform Thursday morning available on both iOS and Android.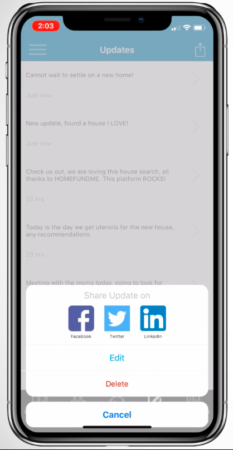 "With our new mobile application, we are continuing to give our users the most seamless experience in realizing their dream of homeownership with the most convenient tools," said Chris George, president and CEO of CMG Financial. "The homebuying process is not easy, but with mobile access, crowdfunding to meet your goals can be."
The new mobile application will streamline and ease access for users looking to crowdfund a mortgage on the platform. Users will be able to share updates and post pictures and videos right from their phone.
Since launching the platform six months ago, HomeFundMe has helped 180 users get into new homes. Currently, there are hundreds of users crowdfunding on the platform and to date, $650,000 has been raised through HomeFundMe.
"We are thrilled with the activity that we have seen on HomeFundMe in the short time since the platform launched in 2017," George said. "The milestones that we have hit are a testament to the need for innovation within the mortgage industry — HomeFundMe has been able to do this in a way that unlocks the opportunity for consumers to buy a home."
Prospective buyers looking to take advantage of the platform need to first prequalify for a mortgage with CMG Financial. After qualifying, it's a simple as setting up a profile, adding some photos and a story, and then sharing that story across social media to connect with friends and family.
HomeFundMe matches $2 for every $1 raised up to the lesser of $1,000 or 1 percent — if the buyer falls under the area median income, the match cap climbs to $2,500. Some HomeFundMe loans are also eligible for 1 percent contribution matches from buyer's agents or listing agents. The site also promises to collect no fees — unlike GoFundMe and Kickstarter, which both collect a 5 percent fee.
In January, HomeFundMe announced the launch of its Affinity Portal, which allows employers to add HomeFundMe to their employee benefits package.
Article image credited to HomeFundMe