Tool lets buyers apply for a mortgage through bank's app or website and will integrate with BoA's loan navigator
Bank of America released a new digital mortgage product last week, adding to the loan navigation tool it already offers homebuyers.
The Bank of America digital mortgage experience, as the bank calls the tool, lets buyers apply for a mortgage through the Bank of America mobile app or on the bank's website. For applicants who are Bank of America customers, the application will autofill much of the information needed from the applicant's Bank of America accounts and any outside accounts they grant access for the mortgage tool to gather information from. Homebuyers who bank elsewhere can still use the tool to apply for a mortgage, but it won't be quite as automated an experience.
"We're trying to simplify the process," Bank of America senior vice president for consumer education and consulting Kathy Cummings said in an interview with Inman. "Folks are looking for simplification, not just automation."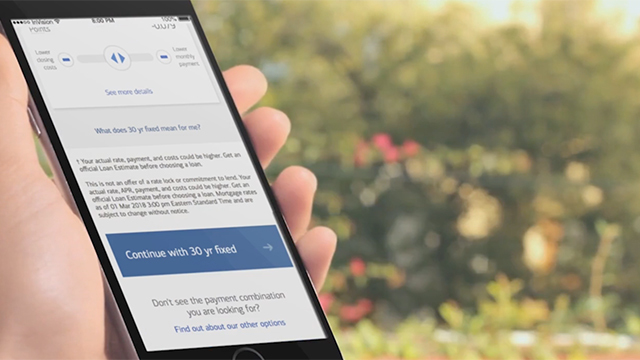 The Bank of America digital mortgage experience. Credit: Bank of America
Applicants can in some cases receive conditional approval the same day they apply, Bank of America says.
"It's definitely better if you're a Bank of America client, but even if you're not, it can pull external accounts," Cummings said.
The digital mortgage product lets users choose which features of a mortgage matter most to them, like the flexibility of monthly payments, closing costs or loan terms. Users can also lock in interest rates, pause and save an application and connect with human lending specialists while filling out the online application.
After users complete their application, the digital mortgage product transitions to then turn to Bank of America's home loan navigator, a product debuted in 2016 that lets loan applicants track the progress of their loans. That product, though, will still be available separately outside of the Bank of America digital mortgage application and available for customers who procure mortgages outside of Bank of America.
More and more financial institutions are adding digital elements to their home loan services. Big banks are competing with loan providers like loanDepot and its tech brand mello, which are trying to add a Silicon Valley twist to the mortgage industry.
Article image credited to MikeMozart/Flickr