For many people across the country, Thanksgiving represents a time of togetherness when the entire brood can gather around the table and sink into some family love - and a vat of mashed potatoes. For others, it's a terrifying time of strife and stress.
Well, get ready for the "normal" fabric of family dynamics to be stretched to its limits this year. In the aftermath of the most contentious U.S. election of our time, nerves are frayed, and two distinct and disagreeable (and that's putting it mildly) camps of voters could make sitting across the table from each other more challenging than usual.
So how can you get through it, and maybe even enjoy yourself? Here's your Thanksgiving 2016 Survival Guide.
Cocktails Any One?
Depending on your family dynamic, you may already be quite familiar with the whole drinking at Thanksgiving thing. But this year may call for more - and stronger - imbibing.
There are a lot of great, Traditional (and some not so traditional) Thanksgiving cocktails out there, like these from the The Food Network. If you think you can inspire a little humor in your family members, set up a blue and red bar and allow everyone to show their true colors. Or, go with Purple Drinks that mix the blue and red to show unity.

B2C
Make dinner a multicultural affair
What better way to make a statement about acceptance than by bringing in some new cultural dishes? "Thanksgiving dinner is conventionally associated with very specific foods. Turkey. Pumpkin pie. Stuffing. But that's not where every family's tradition begins and ends," said Mashable. "The U.S. is a melting pot. It's all about different cultures coming together with family traditions that blend the best of the old world with customs of the new.You might want to try them yourself this year. After all, the blending of American tradition and familial culture often starts with food."
A few of their suggestions: An eastern European Braised Red Cabbage with Bacon, Persian basmati rice stuffing, and Argentinian alfajores, buttery dulce de leche-filled cookies that are perfect with that post-meal cup of coffee. Will it cure the ills of the world? No. But it'll be tasty.

Huffington Post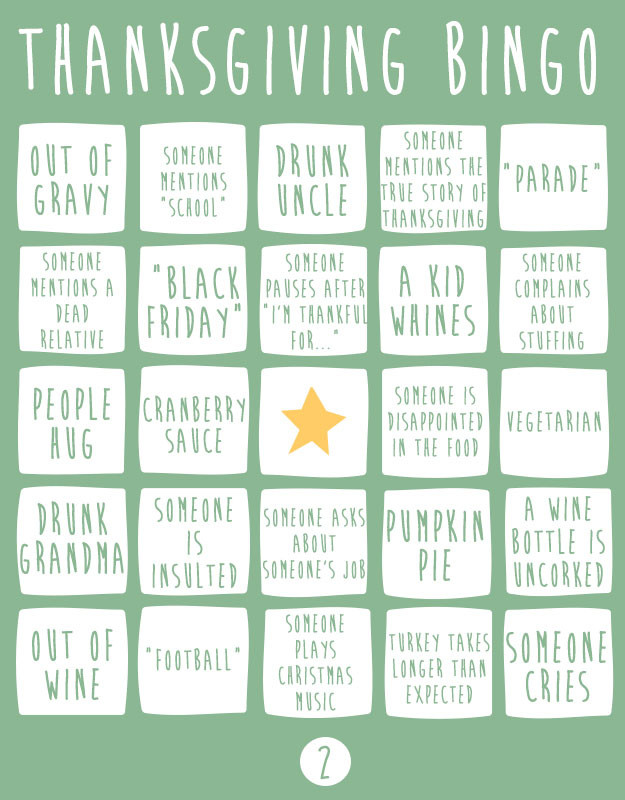 Play a game
Thanksgiving Bingo is a fun way to get through a strained holiday, but cards from years past probably won't do this year. Generate your own Thanksgiving Bingo cards (Great Aunt Linda starts talking about the woman down the street, and you're just waiting for her to drop the "N" word; Cousin Bill uses the words "whiny," "pansy," and/or "loser" when referring to Democrats), and pass them out to a few family members, or give them to friends who you know could really use some help at the dinner table next year. Keeping your ears open for the next winning phrase by making it a game could help soften the tension.
Volunteer
Maybe what your family needs this year is to not sit down to eat together at all, but, rather, to be of service. Volunteering at Thanksgiving can be rewarding for those who are on both the giving end and the receiving end. You can check VolunteerMatch to find a local spot in your area.
Be truly, sincerely, thankful
It's easy to get lost in the minutiae of sorrow or regret, especially when the big picture is also not one you can find much solace in. Whether you're feeling dread at what the next four years hold, or if you're feeling joy, or somewhere in between, taking a moment to get in touch with what you're grateful for can be powerful. Health, wealth, a good job, strong friendships, a loving family (even if this year some are a tad less so), and a table full of food to enjoy offer plenty of reasons to be thankful, which, not coincidentally, is the name of the game on this holiday. If you need help getting in touch with your gratitude, check out these tips.
Go Back