Let your home sing your praises with decorating touches that reflect your unique personality.
Let me begin by saying that I love Ikea. It really can't be beat for clean, modern designs at a reasonable price, and even the top designers are known to scoop up a few things at Ikea for high-end clients. And when the new 2013 catalog landed in my mailbox recently, I must say I felt a little giddy just planning my next trip to the big blue box. Yet it can be tempting to rely too heavily on go-to sources like Ikea when decorating, to the exclusion of other options - and most of us want our homes to feel unique and personal, not like a page ripped from a catalog.
Join us today as we explore 15 creative decorating ideas, from paint and textiles to art collecting and DIY projects - high and low end - to put your own personal stamp on your space and pull everything together in a polished, fabulous way.
1. Make your own upholstered headboard. In the bedroom, a fabulous headboard can be all the decorative impact you need. Professionally upholstered headboards can be extremely pricey, but if you want to accomplish this look on your own, it can be done, as this one from the book by Design Sponge's Grace Bonney shows. The best part: Since the work costs less, you can afford to choose the fabric you are really pining for.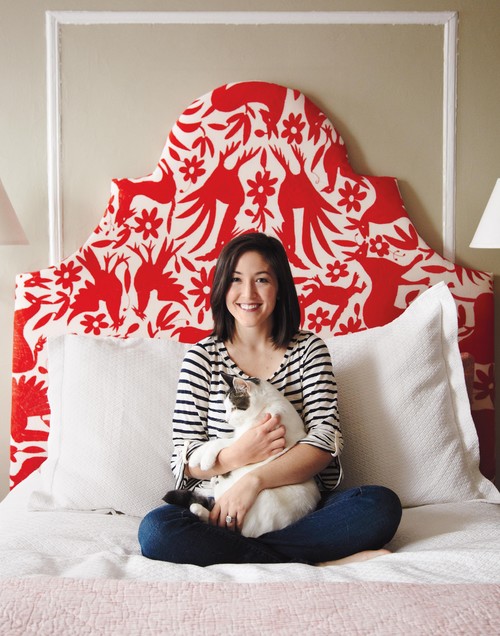 Photo by - Search home design pictures
2. Snag a painting or oversize photograph (at a reasonable price). Thankfully, the art world is ushering in a new era of affordable style from fledgling artists and photographers, spearheaded by innovative sites like 20x200, Etsy and Zatista, among others. Small prints are great too, but adding just one oversize piece to the mix can elevate an entire space.
3. Add trim. If you live in a "plain white box" with no decorative moldings, consider adding a bit of interest with DIY add-ons from the hardware store. Dress up the front door, embellish plain columns or add crown moldings to the living room. Any of these options will add a sense of history to a newer home or flat.
Photo by ABRAMS - More entryway ideas
4. Add definition with a painted border. As an alternative to moldings, painting a stripe of contrasting color around your walls can add crisp definition for very little cost. Thinner lines (1 to 3 inches) will give a subtly crisp look, while thicker lines (5 to 8 inches) are a decorative element in their own right.
Photo by Dresser Homes - Look for entryway design inspiration
5. Create coziness with a painted ceiling. For some reason, most of us don't give much thought to color on the ceiling, opting for basic white or matching the wall color. But a rich, contrasting hue on the ceiling can add a sense of depth and warmth in a wonderfully subtle way, perfect for bedrooms and living rooms.
Photo by - Search bedroom pictures
6. Transform your room with an amazing pendant light. Simply swapping out the standard-issue ceiling light with a stylish pendant takes a perfectly nice but rather plain white or neutral room and makes it feel intentionally designed. Don't be afraid to invest in lighting, even if you rent - you can always take it with you when you move.
Photo by kimberly peck architect - Look for bedroom design inspiration
7. Add wall sconces. Sconces are a darling of decorators everywhere, and with good reason. Their petite size allows them to be placed in tight spots like on bookcases, beside art or in the bathroom, and their soft light casts a flattering glow.
Renters can purchase cord covers to go with the sconces, giving the crisp look of built-ins while still allowing the sconces to be plugged into the wall.
Photo by Tim Barber Ltd Architecture - Look for family room pictures
8. Use a hexagon print. Famed decorator David Hicks loved using hexagon patterns in his rooms, and they are still just as chic today. Jazz up a plain stairwell with a print runner, or use swanky hexagon wallpaper to line a powder room or study.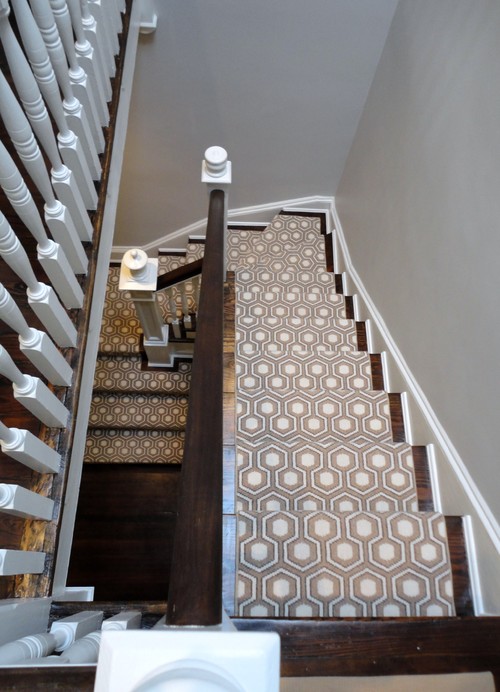 Photo by Zoe Feldman Design, Inc. - Browse staircase ideas
9. Drape furniture with gorgeous textiles. If everything in your home is feeling a little too new and stiff, soften things up with a vintage textile. Suzanis, batiks and Moroccan wedding blankets (like this one) can be draped over sofas and chairs, used to cover beds or floors, or even hung on the wall, tapestry style.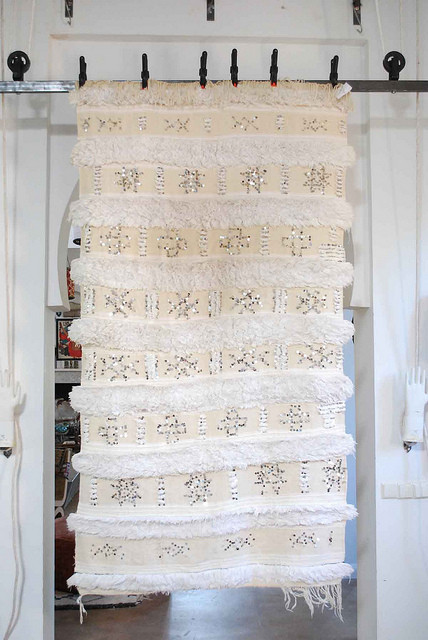 [Vintage Moroccan Wedding Blanket 659]
Explore tapestries on Houzz
10. Treat your kitchen more like the living room. Personalize a cold kitchen with pretty fabric window shades, potted plants, handmade pottery, artwork and a nonkitcheny light fixture. Fitting in a place to sit is a gracious touch as well, even if it's just a perch at the counter - somewhere for a friend to sip wine while you cook.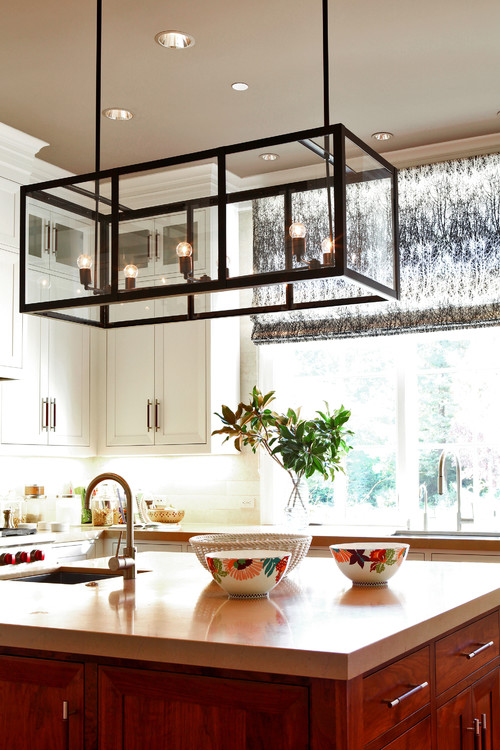 Photo by moment design + productions, llc - Browse home design photos
11. Add pom-poms, fringe or tassel trim. Like little cheerleaders for your house, fancy trimmings can add fun and personality to anything they embellish. Try adding some to the edges of a tablecloth, curtains, cushions or a lampshade. Sewn-on trim will certainly last longer, but don't let the lack of a sewing machine stop you. A glue gun works, too.
Photo by Lucy Interior Design - Browse entryway ideas
12. Give new life to tired old shelves. Bored with the same old shelves you've had forever? Try livening them up with a coat of paint in a bold color. Remove the shelves and paint just the back wall of the bookcase for a pop of color that peeks through. Or paint just the facing edges of the shelves for a more subtle look.
Of course, the new color will draw the eye to this feature in the room, so be sure to edit and curate the shelves' contents before returning items there.
Photo by Jeri Koegel Photography - Search dining room pictures
13. Layer window treatments. One window treatment is good, but two is so, so much better! Not only do layers look more finished, but depending on the treatment chosen, they can also help control and filter the light. Here are three options for layering windows with style:
Add crisp valances over curtains. Matching the fabric exactly is the easiest way to go, though you could add a decorative trim like grosgrain ribbon or nailheads.
Pelmets, similar to valances, but made over a wooden frame, are more formal — great when you want to add a serious note to a modern room.
Layer draperies over simple matchstick blinds for a look that is equal parts traditional and laid back.
14. Choose upholstered dining chairs. They are so much more comfortable during long, leisurely dinners, and they look fresher than plain wood, offering another opportunity to add color, texture and softness to a space that is usually all hard surfaces.
Photo by Optimise Design - Search dining room design ideas
15. Turn down the lights. The general idea is to use more sources of light but with lower-wattage bulbs in each lamp. In rooms with overhead lighting, installing dimmers is a must. Also, pay attention to the corners in every room; dark corners can make a room feel smaller. Proper lighting makes all the difference in the world.
Go Back