If you're seeing midcentury modern furniture and décor everywhere, you're not alone. There hasn't been this much love for the style since, well, the midcentury.
Discussions about why it's come back into vogue are rich - and many credit the (now sadly departed) TV show Mad Men for the resurgence. "Midcentury modern style reappeared on our radar screens more than a decade ago, but the wildly popular show Mad Men has pushed it even farther into the limelight," said Houzz.
Whatever (and whoever) is responsible for bringing midcentury modern back into the spotlight, one thing is certain: we're all pretty happy. Until we go to weave the style into our homes. And then we're all a bit confused.
HGTV put it best: "Midcentury modern style is a growing trend, but most people don't want to live in a home that looks like a time capsule."

Livinator
So how do you incorporate the style into your space? Like this.
1. Less Is More
Go overboard, and your home might end up looking like a movie set. From 60 years ago. One or two pieces here and there is all it takes to create a stylish, eclectic look.
2. Less is More, Part Deux
Midcentury modern is known for its clean lines and simplicity, so look for pieces that aren't overcomplicated.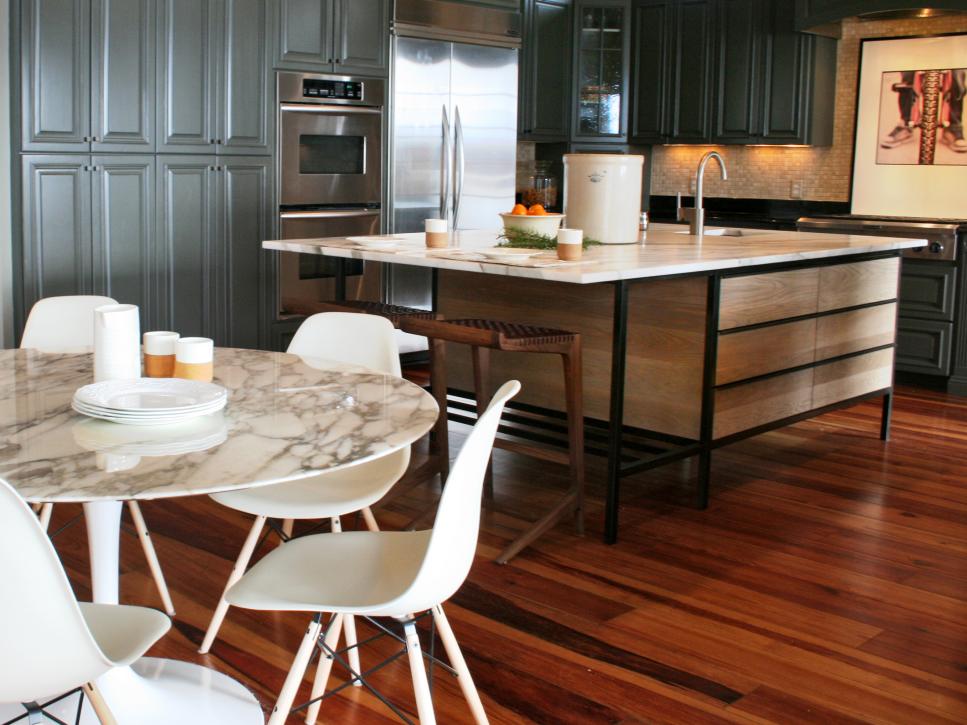 HGTV
"Subtlety and thoughtful craftsmanship are much of what makes midcentury style timeless," said HGTV. "When Eero Saarinen designed his modern classic, marble-topped table in 1956, he wanted to eliminate any extra parts, including extraneous table legs. Paired with molded plastic Eames chairs, the simple lines of the table still look fresh and modern in this slate gray contemporary kitchen."
3. Crib the Look, Ditch the High Price
If the table and chairs look familiar, it's probably because you're seeing knockoff versions all over the place - which is a good thing, really. Because if you can't afford an original (we found the table priced anywhere from $2,000 to $13,000, depending on size) you can get a lookalike for a way more budget price. Our favorite remains the IKEA DOCKSTA, a steal at $179.
Those Eames chairs with the molded plastic seat and dowel legs will set you back about $400 apiece. Or you can pick up a pair of reproductions for just over $100.
Those aren't the only eye-popping prices for original midcentury modern pieces.
"A New York Times article notes that an original Eames molded plywood folding screen, which had been out of production, was worth as much as $10,000 in 1994," said Curbed.

Herman Miller
"In December 1999, a George Nelson Marshmallow sofa sold for an unprecedented $66,000. A year later, two George Nelson 'pretzel' armchairs sold for just over $2,500 apiece, while a 1965 George Nakashima cabinet sold for $20,700." And in a 2005 auction, a Carlo Mollino table sold for $3.9 million.
4. Embrace the wood
It's time to rethink those painted finishes. Midcentury modern design is all about the wood. "Wood pieces, often made of teak, are simply finished to showcase their natural beauty," said Houzz.
5. Emphasize indoor-outdoor living
Renovating your home or looking for a way to bring in more light or create more of a connection with the outdoors? All you have to do is look to the past for inspiration.
"It may sound quaint now, but back in the '50s, the idea of indoor-outdoor living was revolutionary for the average American," said Houzz. "Midcentury modern homes took advantage of the new passion for bringing the indoors out and vice versa: wide windows, sliding doors, patios. The idea was to create a connection with the natural world that worked equally well with a book in your lap during a quiet moment or a cocktail in your hand at a party."

Dwell
6. Go graphic
Those graphic patterns that have been so popular over the last few years? They're another throwback to the midcentury era.
[Baroque Wallpaper from Design Public]
Photo by Becky Harris - More modern home office photos
7. Statement Lighting
Today's lighting trends are already embracing the midcentury modern style, with statement pieces showing up as chandeliers and pendants over kitchen islands.

pinterest
8. Sit on it
One of the best places to start with the midcentury modern motif is with the biggest piece of furniture in the room. Going sleek with your couch immediately amps up the style quotient.
And while some of them look like they could have been lifted right out of Don Draper's living room, the many reproductions available today mean you can get a great look without a celebrity bank account. The reproduction Byrd sofa "exudes midcentury modern design with a "pronounced, tufted back and bench seat (that) give…a classic, yet modern, look" is just $1,299.

fowfurniture
Even less is the $788 Synchronicity Loveseat from Dot and Bo, a "nostalgic piece" that features "beautifully hued fabric upholstery and dark wood-finished angular wood feet."
[Synchronicity Fabric Loveseat]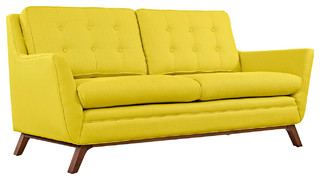 midcentury love seats
Go Back