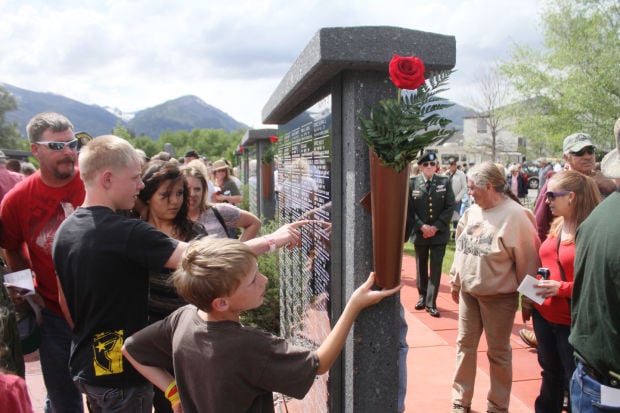 Here is a look at Memorial Weekend commemorations planned in western Montana.
• Rocky Mountain Museum of Military History open noon-5 p.m., Friday through Monday, Building T-316, Fort Missoula. Call 549-5346.
Sunday
• Memorial Day weekend program, 2 p.m., Rocky Mountain Museum of Military History, Building T-316, Fort Missoula. The museum will honor veterans of World War I through presentations of certificates of appreciation to descendants and friends of WWI veterans. To apply, call 549-5346 or email info@fortmissoula.org and provide the name, rank, and branch of service for the veterans. Certificates can be mailed to those unable to attend the ceremony. Special WWI displays and refreshments will be on hand.
Monday
• Veterans and families of Seeley Lake host a Memorial Day service, 10 a.m., Veterans Memorial Gardens, north end of Seeley Lake.
• Memorial Day dinner and 58th annual service, Florence-Carlton Community Church, Florence-Carlton Fellowship Hall. Flag raising ceremony, 11 a.m. Dinner, 11:30 a.m.-1:30 p.m. $7 adults, $4 ages 12 and under, includes turkey, mashed potatoes, gravy, stuffing, vegetables, rolls and homemade pie. All proceeds go toward local needs and church missions
• 87th annual Memorial Day Services in Missoula.
10-10:20 a.m., Caras Park Memorial Day Service. Wreath toss into Clark Fork River by Missoula City Fire Department Rescue Boat Crew.
11-11:30 a.m., Missoula County Courthouse Ceremony. Keynote speaker, Honor and Color Guards, Wreath placements at World War I monument.
Noon, Fort Missoula Military Cemetery. Honor and Color guards. Wreath placements by American Legion Auxiliary.
12:30-1 p.m., Western Montana State Veterans Cemetery. Dedicated to Charlie Crookshanks. Honor and Color Guards, Wreath placement.
Advertisement (1 of 1): 0:15
1:15-2 p.m., Sunset Memorial – lunch and break. Honor and color guards, wreath placement, flag dedication at flag pole.
2:15-3 p.m., Missoula City Cemetery – veteran memorial; St. Mary's Annex Cemetery – statue and St. Mary's Cemetery – veteran memorial. Honor and color guards, wreath placements by American Legion Auxiliary 27 and VFW 209 Honor Guard.
3:15-4 p.m., Rose Memorial Garden Park – Two services. Keynote speaker, honor and color guards, 18 wreath placements on park monuments.
4:45 p.m., University of Montana Oval, in front of the Afghanistan and Iraq War Memorial. Bugler Elliott Oppenheim; keynote speaker and Iraq veteran Sam Redfern and members of the United Veterans Council of Missoula and Ravalli counties.
All services organized and hosted by United Veterans Council of Ravalli and Missoula Counties.
Call 251-5116 or email at bluemountain@montana.com.
• 94th annual Corvallis Memorial Day parade presented by the Corvallis American Legion Post 91 and the Ladies Auxiliary, 10 a.m., Main Street, Corvallis.
The parade theme is "Celebrate the 95th Birthday of The American Legion." The Parade Grand Marshall is Frank McCauley.
At noon at the Corvallis Cemetery, Post 91 will conduct its annual memorial ceremony. Post members will name all the veterans buried at the cemetery dating back to the Mexican War (1848). After the cemetery ceremony, post members will move to the Woodside Cutoff Bridge and place a wreath in the Bitterroot River for all those who died at sea.
The Corvallis Community Events Center will serve breakfast from 7-9:30 a.m. in the Corvallis High School lunch room located off the Eastside Highway. After the parade, the annual community carnival will take place on the north end of main street on the Corvallis High School front lawn.
For more information, visit corvallispost91.com or call Doug Mason at 546-4244.
Go Back