The idea of growing old have you freaked out? You're in good company. But when it comes to renovating and updating our homes, maybe we all need to get over ourselves a little. That's what some proponents of universal design say, anyway.
What is universal design and where is it being applied?
Universal design is "a principle aimed at making buildings, environments and products accessible to the broadest possible population," said Care.com. "It can be applied to everything from kitchen products to home design. The term was coined in the early 1980s by Ronald L. Mace, a wheelchair-bound architect, as: "The design of products and environments to be usable by all people to the greatest extent possible, without the need for adaptation or specialized design."
Ironically enough, in the decades since that famous term coining, the principle has been largely relegated to renovations instead of being incorporated into new builds. But that may be shifting. "If you don't know about universal design yet - making homes more accessible to people of all ages, sizes and physical abilities - you will soon," said New Home Source. "Perhaps it's the growing cadre of baby boomers or the number of families trying to accommodate granny as well as young children, but in discussions about housing, the phrase 'universal design' is trending. It represents a shift in the way we think about homes and in the way they are designed and built."
Overcoming reservations
Universal design has to overcome the most obvious objection: It forces a mortality check. If you're a baby boomer (or younger) who's renovating, you may want pretty new floors in your living room and quartz countertops in your kitchen. But thinking about features that will help you live comfortably when your mobility is challenged... maybe not.
But that's exactly why it's smart to think about universal design, especially as it relates to making renovations for the future, in the present.
"Why are most interior doorways only 30 inches wide? Why are so many doorknobs hard to grip? And why do so many homes have a long stairway between the front door and the bedrooms? Two typical answers to these questions would be, 'because that's the way we've always built houses' and 'because these houses meet code," said Green Building Advisor. "(Those two reasons happen to be pretty weak, by the way.)
We're all getting older, and many of us have family members with special needs. Ideally, the homes we build today will work well for people with a wide range of abilities."
Advantages of Universal Design
The good news, outside of the obvious gain in accessibility: Adding in some universal design features may actually raise the value of your home and make it more marketable. "Modifying a home to make it more accessible can also make it easier to sell when the time comes to move," said the Chicago Tribune. "Simple changes such as new lighting can enhance the safety of the home for current and future residents. Big changes, such as a complete kitchen redo, can make it easier for anyone - young or old - to navigate the space which can boost a home's appeal."
But how is that possible, you ask? Aren't universal design features, well, ugly? That's a long-held impression that is, thankfully, no longer true. "For most of us, even a mention of universal design is apt to conjure up a vision of hospital-like grab bars," said New Home Source, "but proponents say universal design is simply good design that is well thought out and visually pleasing."
Photo by Imperial Homes Qld Pty Ltd - Search Asian entryway design ideas
Indeed, many of the features associated with universal design are also on the forefront of today's overall design trends. "New products are available such as attractive grab bars, appliances that sit in a drawer, and touchless water faucets," said the Chicago Tribune. "Sleek, modern lighting fixtures can be connected to motion detectors that turn the lights on when someone enters the room or starts down a stairway."
Some of the essential features of universal design that you may want to consider include:
Wider doors. "A 30- or 32-inch-wide interior door is considered standard, but universal access requires 32 inches of clear space when the door is open, which usually means specifying a 36-inch-wide door," said Houselogic.
Kitchens. When remodeling your kitchen, there are a few considerations that can take it from amazing to amazing and accessible. "A simple change is to move the microwave oven," said the Chicago Tribune. "Many homes have the microwave installed over the stove which makes it hard to reach. As an alternative, the microwave can be built into a lower cabinet so it sits at waist level. Also think about cabinets with roll-out drawers and "cut-outs underneath for wheelchairs."

This Old House
A curbless shower. Walk-in showers are the trend today, anyway. So if you're renovating your bathroom and your shower is on the list, this is a great place to start. A wide opening with a door that swings out will allow for wheelchair access in the future, and a bench is great for shaving your legs now, and being able to rest while showering later.
Grab bars. You don't have to install a grab bar for your shower, tub, and toilet before you're ready. But if you're redoing your bathroom, consider doing the prep work now so the installation is easy once you do want to move forward. "Cover the framing of the entire tub, shower, and toilet surround with 1/2-inch pressure-treated plywood so that you can install grab bars anywhere on the wall, either immediately or at any time in the future," said Houselogic.
Lever handles instead of knobs. Not only do these handles make it easier for those with dexterity problems to access doors, drawers, and the like, but they also look great, too.
Hand-held shower. This is another area where smart renovations meet today's desirability.
Tall toilets with no-slam seats and lids. It's easy enough to replace a toilet down the line, but if you're getting a new one now, consider a taller option that can ease the pain of bending. A soft-close lid is always a great feature.
Wall-mounted sinks. One of the hottest looks in bathroom vanities today: Floating vanities. From a practical standpoint, the floating vanity is also a great buy because it creates easy access for those in wheelchairs.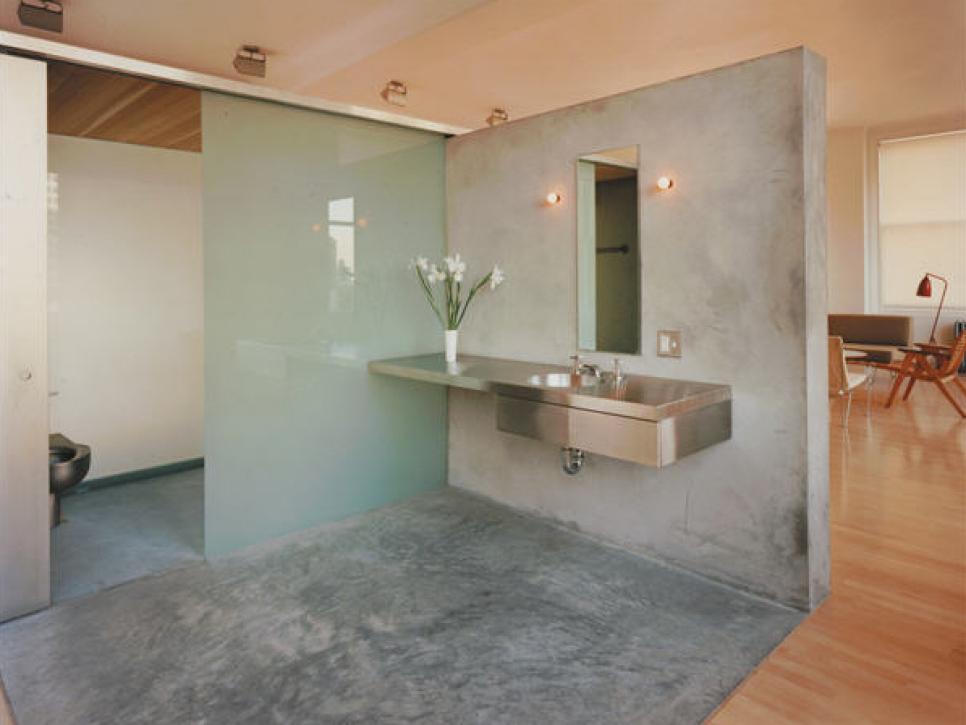 HGTV
Wheelchair clearance. "Wheelchair-accessible bathroom dimensions require clear space of at least 5 feet (60 inches) in diameter to allow a 180-degree turn," said Houselogic. "If space is at a premium, consider keeping the room open rather than compartmentalizing the toilet so that a wheelchair's turning radius can be accommodated."
Slip-resistant tile. This may already be on your radar if you have kids or dogs (or both), or tend to be clumsy. But if new floors are on your radar, keep the COF, coefficient of friction, in mind. That measures how slippery the tile is when wet. Shoot for a COF of .60 or above for bathrooms and kitchens.
An accessible entry. A wheelchair-accessible ramp may not be something you want to think about during a renovation, especially if you're healthy and mobile. After all, you have no way of knowing whether you'll ever need one. And, "installing a ramp for wheelchairs at the front of the house can be a turn off to potential buyers," according to the Chicago Tribune. But if you do want to make it easier to access the entry to your your home now or years from now, think about "making another entrance accessible," they said. "An attached garage might have room for a simple lift. A back entrance can sometimes be reconfigured. New American Homes in suburban Antioch has a model ranch home with a stepless entry. Instead of a ramp, the house has a sloped brick pathway hidden behind the front porch that blends into the landscaping."
Go Back