There are few among us who wouldn't love to have a beachfront property with sliding glass walls that move aside to reveal unobstructed access to the deck and panoramic views of the beach beyond.
But, for most of us, making the most of what we've got is more the reality. That doesn't mean we can't create an amazing space, though, even on a limited budget and with minimal DIY skills. If you've got a little time and a little money, you can create a space that draws the outdoors in and the family out. Here's where to start.
Create a patio
You don't have to build an expensive deck or pour thousands of dollars of concrete to create a great patio that serves as the foundation for your outdoor room (literally). Pavers are a DIY project you can get done in a weekend depending on your energy level and the size of your space, and they're a favorite of experts, too.
"A patio can be created with many materials, but it's hard to beat one made from pavers for ease of installation and low maintenance," said DIY Network. "The initial cost may be higher than other options, but you'll save in the long run by not having to stain or seal it continuously. Plus, repairs are easier, one paver at a time."

Lowe's
Cover up
Shelter is key, not only for creating a shady spot where you can escape from the sun without retreating back into the house, but also because it helps to make the space feel complete. If your budget can't stretch enough to include a custom pergola or patio cover, a large, offset umbrella can be a great answer. This Garden Treasures offset umbrellafrom Lowe's is 10.5x10.5, covering a large amount of space for just $208, and it can be cranked up and down as needed so you can protect it - and your windows - on windy days.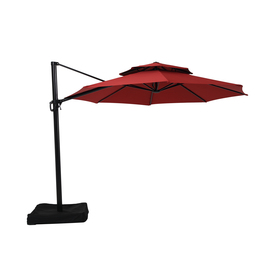 Lowe's
Create an opening
Insufficient access from inside to out (and vice versa!)? That's fixable.
The most economical solution is vinyl or aluminum sliding patio doors, said Angie's List. "For a basic sliding patio door, including installation and hardware costs, you will probably invest anywhere from $1,200 to $2,500 from a big-box store. The least expensive French patio door options are going to start between $1,500 and $2,000 at a big-box store."
Want to really commit to the indoor-outdoor experience - with or without an ocean view - with bi-fold or accordion doors? Expect to make a hefty investment. But if you've got the money or the skills, you, too, can have a house that's wide open to the outside.

Select Windows
"Accordion-style patio doors make the outdoors an extension of your home. They are typically used to open up an entire side of a living room, dining room or kitchen to the patio or deck outside," said KOMPAREIT. "Glass doors cover the length of the wall when closed and then fold up to completely to one or both sides when open. Accordion-style doors are expensive. They cost about $700 to $1,000 per linear square foot on average, which may or may not include installation, depending on the supplier. For a 12-foot opening, that works out to $8,400 to $12,000."
Comfy seating
Creating the ideal outdoor living space today is all about making it as comfortable as possible. That means cushy seating areas that are plush enough to entice you away from the TV.
This Corfu 4-piece seating group has the modern wicker look that's been so popular for the past few years, plenty of space for family and friends to gather, and also comes with an outdoor coffee table. Better yet, it's just $458 onWayfair

Wayfair
Add in the extras
Just like you'd accessorize the inside of your home, the outside screams for a little attention to detail. An outdoor rug, a few throw cushions, and some decorative outdoor lighting can transform your space from "just OK" to "just WOW."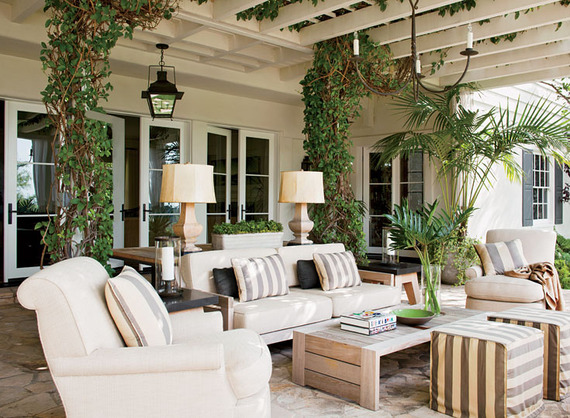 Huffington Post
Go Back