PRINT | EMAIL
Ever wonder how the other half lives? Maybe you are the other half and want a few ideas for how to spend all that money adding the most posh, plush, and luxe (not to mention crazy expensive) items to your home. Either way, we've got a list that will have you salivating.
When not just any old fridge will do, who do you turn to? Well, Dolce and Gabbana, of course! The famed fashion designers just launched a new collaboration with Italian appliances brand Smeg "to produce 100 limited-edition FAB28 refrigerators, all of which are hand-painted by artists specially commissioned by Dolce and Gabbana themselves," said Vogue. "Bedecked with these prints that we've seen pop up in past collections from the fashion house, each fridge will be available through Smeg and Dolce & Gabbana for - get ready - €30,000, or about $34,140."
Dolce and Gabbana aren't the only top clothing designers to veer into the home world. Fendi Casa has been creating furniture and design objects since 1987, with items reflecting their high-end, contemporary tone.

Vizadrone
For luxury, it doesn't get much better than Versace, and their home collection is about as posh as it gets.

Elle
Calacatta marble not exclusive enough for you? How about countertops made from glazed volvic lava stone, "an ancient and natural stone extracted from the Nugere crater at the heart of Auvergne's volcanoes in France," saidLEEZA Surfaces. That's Pyrolave, which, in addition to being rare, is also very strong, heat resistant, and available in 32 colors. The cost: A measly $370/square foot.

Pyrolave
Baccarat is known for their luxury crystal glassware, jewelry, and gifts, as well as a number of incredible chandeliers. You can pick one like this up for a few thousand dollars, but as long price is no object, bring this beauty home. The Baccarat Zenith Chandelier with 48 Lights with only set you back a mere $147,600.

Crystal Classics
Maybe you envision a different kind of showstopping chandelier. One reminiscent of museums, botanical gardens, and luxury hotels around the world. One from world-famous artist Dale Chihuly, perhaps.

Pinterest
If you're planning to add a Chihuly work to your house, you'll want to be aware of a few things. "If your ultimate splurge is a Chihuly masterpiece, you'll want to get started early to incorporate all that will be required," said Houzz. "You'll also have to accept that the artist is going to be the boss, especially if it's an artist as accomplished as Dale Chihuly."
Looking to bring some ultra luxury to the foundation areas of your home? Hire Mark Evans to sculpt leather onto your walls using knives. His work adorning a Russian billionaire's mansion is the most expensive wallpaper in the world, realized by "etching the leather down to the suede with a number of bladed tools of different sizes, from a large hunting knife to several sculpting knives," said Most Expensive. The results are photorealistic depictions of animals, the crucifixion and even the celebrated "Fight of the Year" between Doug Jones and Muhammad Ali. Evans' leather etchings…cover the walls of two rooms in a mansion in Moscow. The tally on the "unnamed billionaire's" walls: $2.71 million, or "around $23,675 per square meter."

Pinterest
With so much grandeur throughout the other areas of your home, you certainly can't skimp on floors. How about this exotic Macassar Ebony wood? It's only slightly more than that budget option at Home Depot with a price of $150 per square foot.
"Having Macassar ebony milled into flooring will no doubt set your home improvement budget back a ways," said This Old House. "Truth is, most people who can afford to use this exotic hardwood aren't too worried about budgets.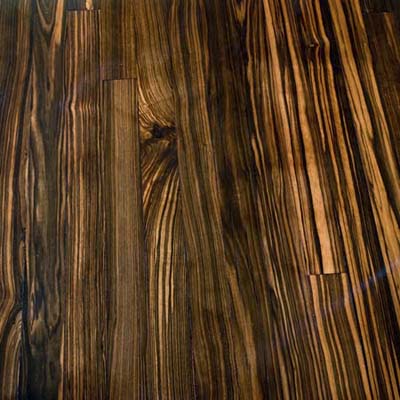 This Old House
Go Back