PRINT | EMAIL
Couch styles come and go, but classics always remain in style. And sometimes a classic becomes a trend—think subway tile, the prevailing trend in tile for walls and backsplashes for the last several years but rooted in history dating back to the New York subways of the early 1900s.
The subway tile equivalent when it comes to sofas is the Chesterfield. Known for its tailored look, quilted leather upholstery, rolled arms, and wooden legs, the Chesterfield dates back to Britain and Lord Phillip Stanhope, the 4th Earl of Chesterfield (1694-1773). It's believed that "he commissioned the first leather chesterfield settee with its distinctive deep buttoned, quilted leather upholstery and low seat base," said London Gallery. "Aside from being a much-admired politician and writer, patron of Voltaire, the Earl was a known trendsetter. Apparently the Earl requested a local craftsman to construct a piece of furniture that would allow a gentleman to sit upright in the utmost of comfort allowing sitting without wrinkling the garment."
The goals remains, and while Chesterfields still hearken back to the early days, with images of nobility and refined gentleman's clubs, they're just as home in a modern living room. "There's something intrinsically luxurious and old fashioned about a Chesterfield sofa. All that tufting! Those curved arms! There's just so much to love," said Apartment Therapy." Which is probably why the Chesterfield has remained a classic style over the years."
As the sofa of the moment, there are endless options from which to choose. No matter what size, color, and fabric you choose, one thing is for sure: your couch will be a standout.
This 118" cigar leather sofa has that regal yet comfortable look that comes to mind when you think of Chesterfields.

Zin Home
Reproductions not working for you? An easy search online yields results for antique Chesterfields, like this 19th-century beauty.

Antiques Atlas
The look is classic, the color is wow. Who says you have to go with brown?

Cococo Home
Luxurious lines, bold color choice, and velvet instead of leather. This Chesterfield is no wallflower.
[Belchamp Chesterfield Sofa]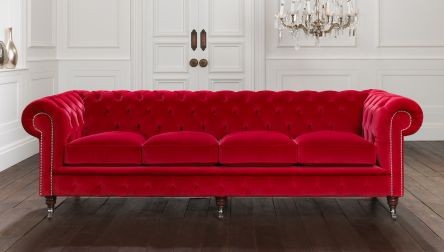 contemporary sofas
The Chesterfield look can also adapt for more modern family needs. Check out this leather sectional with a uniquely shaped chaise.

Home Improvement Central
Or this linen version with a squared-off chaise.

EMFURN
This more streamlined sofa has a Chesterfield feel that may appeal to a more modern aesthetic.

Overstock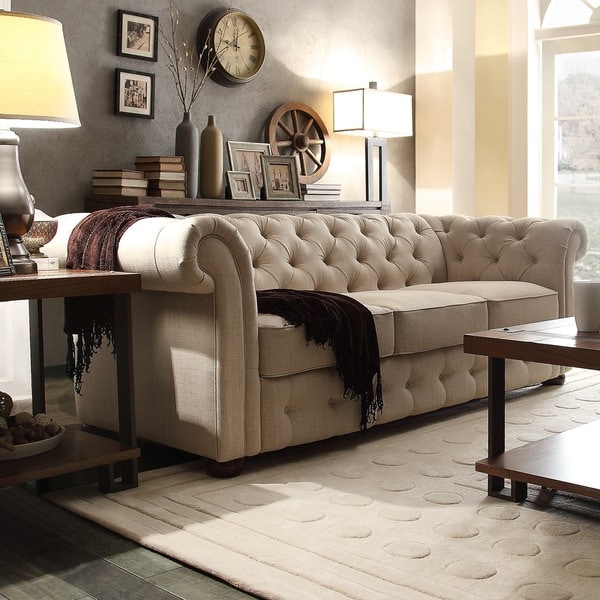 This Oxford Tub Chair provides a similar look in a smaller size.

Distinctive Chesterfields
All that tufting works equally well in other places. The Chesterfield may just have inspired the latest headboard craze.
Go Back