Shipping container homes were borne, at least in part, out of a desire to live efficiently and affordably. After all, a skilled DIYer can build a home out of a couple of containers for about the price of a mid-size car. But what if you love the idea of living in a container home, but building one…not so much? Or maybe you're not so keen on the way the containers look, even if you embrace the idea for other reasons.
With the growth in popularity of container homes, you have options. Lots of them, from inexpensive pre-fab tiny units to sprawling customs that bear little (or no) resemblance to big metal boxes.
Pre-fab
Pre-fab means prefabricated. That means the house is not being built from scratch on site, although, when it comes to shipping container homes, even customs will use some pre-made parts (like the shipping container itself). These are, not surprisingly, far more affordable than a custom build.
Canadian-based company Honomobo has gained fame this year for its pre-fab container homes that aren't just super stylish, but also eliminate one of the potential complications with these types of structures. "Foreseeing complicated regulations regarding tiny homes, Honomobo homes are built to local building codes as either primary or secondary residences and, unlike tiny houses on wheels, are typically installed on a permanent foundation," said Curbed. While many of their homes are considered tiny - the 208-square-foot mini studio is priced at $39,801 - they also range up to a 1,216-square-foot two-or three-bedroom home for $162,728.
Even better: Honomobo residences are typically delivered in 10 weeks.
The HO3 unit above uses three shipping containers "knit together to create a private full bedroom, kitchen with an island, and a stunning 21' wide front window to maximize light and indoor/outdoor connection," they said. The 528-square-foot unit is $112,743.
The units are also stackable, which is perfect for developers looking to maximize income potential.

honomobo.com
If you don't want a container home as your primary residence, you can add one to your backyard to use as a she shed, guest house, or income unit.

tinyhousetalk.com
Or, how about a granny flat?
The Monaco by Nova Deko is a $24,000, one-bedroom, one-bath, 160-square-foot granny flat "where the living space duals as a bedroom," said Off Grid World. "It features a tiled bathroom, full kitchen," and eating area.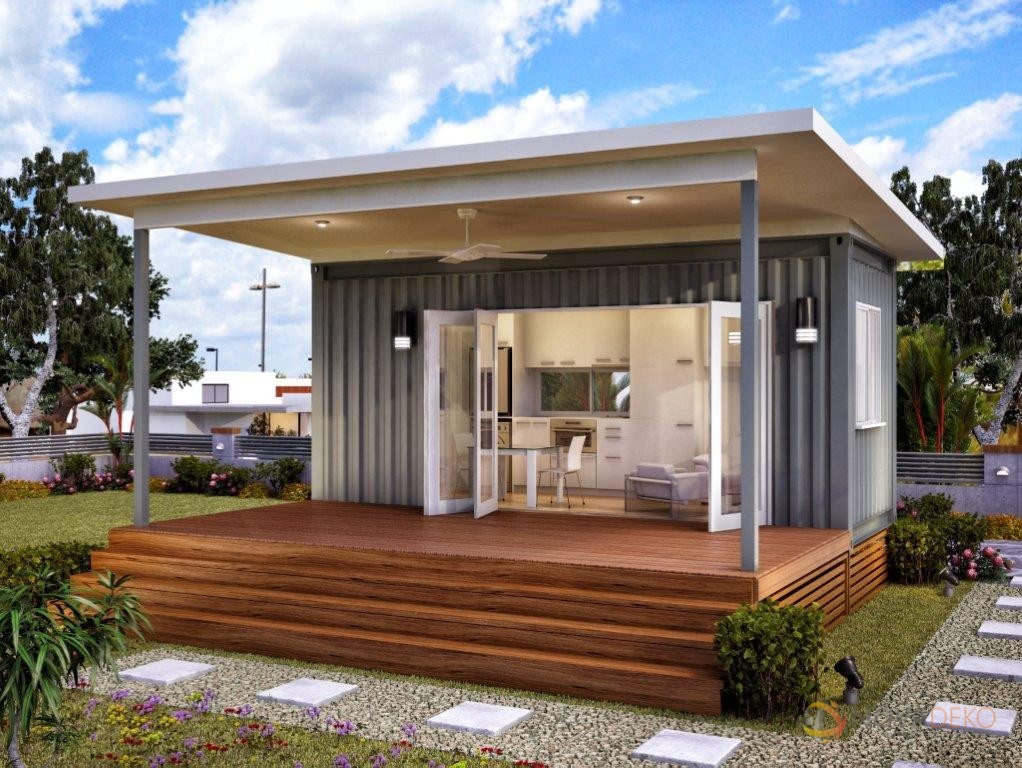 Off Grid World
Custom
While custom container homes will generally far exceed the small budget associated with many of the small, pre-fab homes, there are numerous advantages. Obviously, the ability to design a space that is built to exact specifications is No. 1. Custom container homes can also be designed to suit other needs, like this one that was constructed to be as green as possible.
"Two shipping containers surround a taller common space in Nederland, Colorado. The containers house sleeping and work areas while the center space hosts dining, living and a loft above," said Nifty Homestead. "The project is off-the-grid using solar orientation, passive cooling, green roofs, pellet stove heating and photovoltaics to create electricity."

niftyhomestead.com
Flying Box Villa represents another trend in shipping container home design - it doesn't reveal the shipping containers at all.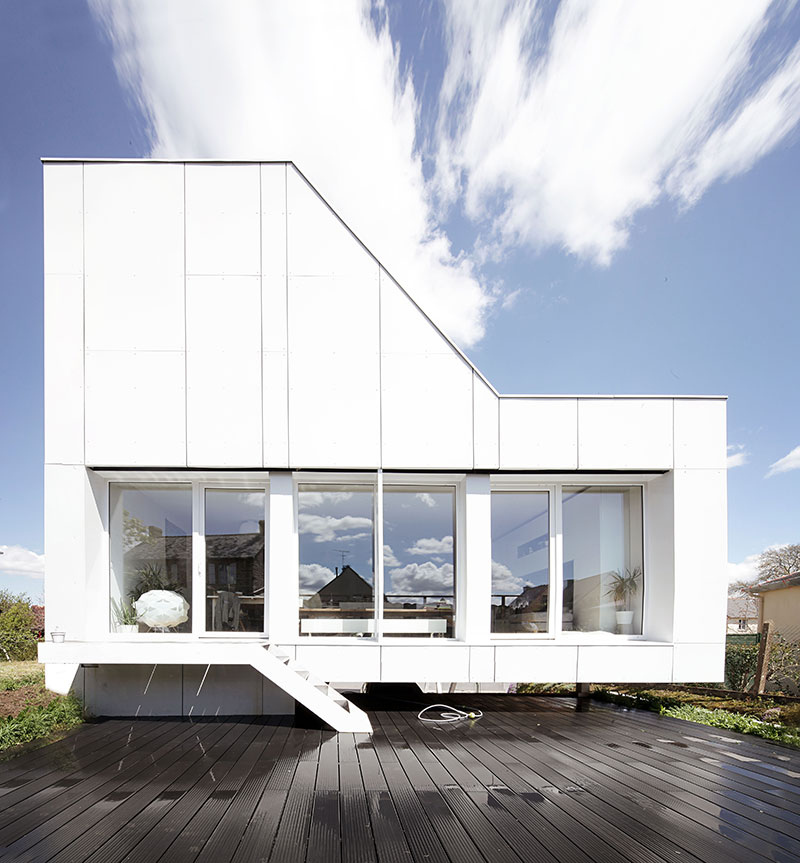 busyboo.com
"What's better than a shipping container home that doesn't look like one? How about a container home that redefines everything we thought we knew about prefabricated design? That's exactly what we have with the aptly named Flying Box Villa by French architecture firm 2A Design," said Busyboo. "This small modern home is a visual blur -- an aesthetic tour de force that is as unique as it is functional."

busyboo.com
Or, maybe disguising the containers isn't your goal. If you like the urban look associated with shopping containers, check out this home from Hive Modular, which used two twenty-foot shipping containers the homeowners bought for $800 apiece "to create a cabin complete with kitchen, dining room, living room with a wood burning stove, laundry room and two queen beds," said Nifty Homestead. "The two cabins are connected by a middle section loft and roof" made out of fir beams and featuring a glass door at the entry. "The cabin is partially powered by solar power arrays and connected to a rainwater cistern, making this building an ecologically-sustainable vacation home."

hivemodular.com
Go Back